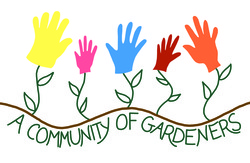 A Community of Gardeners
is a one-hour documentary that shows how seven community gardens in Washington, D.C. are transforming people's lives, their communities and their environment.  The film also traces the history of community gardens in the U.S., from the potato patch farms of the late 19th century, to the victory gardens of World War II, to community gardening's current renaissance. 
A Community of Gardeners
has been airing on PBS stations nationwide.  Learn how you can
purchase the DVD
.
---
Documentary to Screen at Oakland International Film Festival on April 6 and 7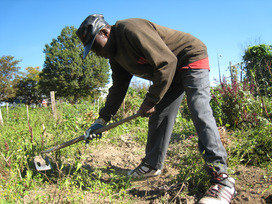 A Community of Gardeners
will be shown at the
Oakland International Film Festival
in Northern California on April 6 and 7.  The documentary will be screened on
Saturday, April 6
during the 1-4 p.m. time slot at the Black Repertory Theater and on
Sunday, April 7
during the 5-8 p.m. time slot at the San Leandro Performing Arts Center.  To purchase tickets and to view maps of the screening venues, visit the
OIFF Screenings/Tickets page
.
---
Producer Cintia Cabib Presents Film to Audiences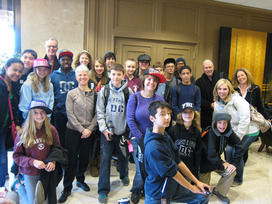 In February and March, filmmaker Cintia Cabib presented
A Community of Gardeners
at several venues in the Washington, D.C. metropolitan area.  Cintia visited American University in February, where she spoke about the production and distribution of the documentary to Professor Chris Palmer's graduate students.  Mr. Palmer is the director of the University's
Center for Environmental Filmmaking
.  In March, Cintia discussed her film with students and staff from St. Stephen's Episcopal School in Houston, Texas during their visit to Washington, D.C. (see photo on right).  On March 8,
A Community of Gardeners
 was shown to high school students at the
AFI Silver Theatre and Cultural Center
in Silver Spring, Maryland as part of the AFI's Educational Screenings Program.   Joining Cintia for a panel discussion were Gouri Mirpuri, board member of
The Learning Farm
, Edamarie Mattei, owner of
Backyard Bounty
, and Sophia Maravell, founder of
Brickyard Educational Farm
.  The
U.S. Botanic Garden
in Washington, D.C. hosted a screening of the film on March 14, which was followed by a Q & A session with Cintia.  Please
contact Cintia
if you would like to discuss a speaking engagement.
---
Bring A Community of Gardeners to Your Town!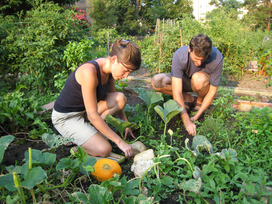 School gardens, rooftops, and community green spaces are abuzz with activity as children, teenagers and adults prepare their gardens for the spring and summer.  If you would like to inspire your gardeners as they begin the planting season, consider hosting a screening of
A Community of Gardeners
in your town or city!  To learn how you can purchase the DVD and host a screening, visit the
Buy DVD page
.
---
Like the film on Facebook and follow us on Twitter!